6
About
Hello and welcome to Zeshan.com!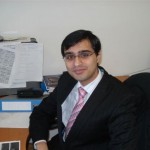 My name is Zeshan Sattar and I'm a MCT (Microsoft Certified Trainer)  living in West Yorkshire, UK.  The point of this blog is for me to post any news, opinions and technical solutions that I don't mind the entire world knowing. All views are my own.
I work for Agilisys Arch as the Head of Curriculum Development. My role is to devise Apprenticeship Programmes and the content that will drive the learning of the apprentices while they are on and off the job.
The programmes are made up of academic, vocational, and professional qualifications.
In terms of hobbies;  I am a fan of science fiction, learning Japanese  and I like to keep up-to date with current affairs.
If you wish to get in touch with me, I am available on Google+, LinkedIn, Twitter and at <zeshan@zeshan.com>
Thanks for visiting!