0
Mobile-First, Cloud-First MTAs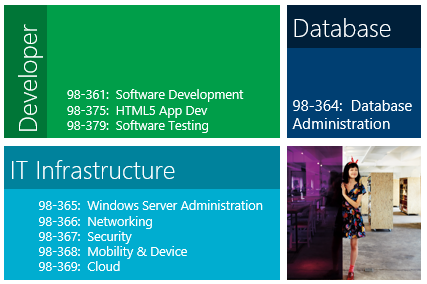 2014 was an interesting year for Microsoft Technology Associate (MTA) certifications. The certification level was released in the summer of 2010 and had spawned a series of 13 exams. By passing one exam = one MTA.
The 13 exams were:
On July 31st 2014, Microsoft retired the Windows Development Fundamentals (98-362) and Mobile Development Fundamentals (98-373) exams.
It was understandable that Microsoft took this move as the advent of the Windows 8 and Windows Phone 8 Operating Systems meant that the content of these exams had become outdated.
Autumn/Winter 2014 was quite strange. In October 2014, Microsoft released a new IT Academy roadmap where they had put in a couple of new MTAs (more about that later) and in December they announced the following exams would be retired in July 2015:
The retirement of 98-349 was a massive shocker since this is based on the Windows 7 Operating System and could be easily adjusted to include Windows 8.1/10 content. However, as the whole Microsoft Strategy is changing from "a computer on every desk" (which to be fair has been achieved) to a "Devices and Solutions" organisation, the certification portfolio has been changing quite rapidly as well.
The key to all of this is Satya Nadella's mantra of "Mobile-First, Cloud-First" which fits extremely well with two new MTA exams to be released on 5th January 2015 (tentatively):
Looking at the objectives, it would be difficult for academia (especially at the school/apprenticeship level) to deliver coherent courses for these exams. Educators would require a low-cost and easy way to provision accounts for students on Azure, Office 365 and Intune.
Currently there is the Azure Educator Grant but it is targeted towards Higher Education. Also, it may not provide sufficient resources for all the areas that the courses would need to cover.
At the MOC level, Learning Partners can request Azure passes. It would be awesome if something similar was provided for Educators.
The first hint of these two new exams were in the IT Academy Roadmap from October 2014:
If you look at the full roadmap, there are still a number of MTAs missing but the official stance from Wendy Johnson (Sr. Product Manager, Academic Certification at Microsoft Learning Experiences) is:
"The other MTAs are still all available and supported, including the likes of Security, Server Admin, etc, but are not highlighted in the roadmap. Longer term, we do expect to incorporate some key concepts from retiring exams into updated and new MTA exams, all reflective of the shift in technology strategy we see happening at Microsoft today."
The missing exams from the ITA roadmap are:
There are rumours rife about the fate of these exams but unless I see anything solid, I don't think it would be fair to write anything here.
So, the good news is that in January 2015 the MTA portfolio will look like this:
However, in August 2015 (assuming nothing else changes) the MTA portfolio will look like this:
So, we've gone from 13 exams to 9 exams with the possibility of further convergence. 2015 should definitely be an interesting year for the MTA certifications.